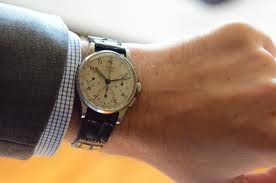 If you've never read O'Henry's romantic short story "Gift of the Magi," you should. The tale chronicles newlyweds so poor, each sold their most valuable possession to buy the other a holiday gift: She sells her hair to buy a watch fob. He sells his timepiece to purchase a hair comb. O'Henry's story exemplifies nostalgia surrounding vintage accessories in the Victorian era; that fascination remains. There's been a Renaissance of late, so if you're a fan or hobbyist, this article should delight you.
Gruen
German watchmaker Dietrich Gruen immigrated to the U.S. landing a job apprenticing for an Ohio jeweler. His patent for an improved safety pinion in 1874 helped launch his business, and by the time his sons joined him in the 1890s, the family name D. Gruen & Sons (DGS) appeared on the firm's timepieces. Many believe Gruen is a Swiss brand, but truth is, only the movements came from Switzerland.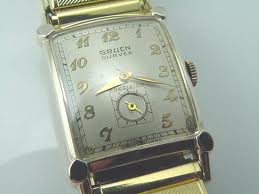 Adding wristwatches to the company catalog around 1915, the company's signature "Quadron" models, tucked into slim rectangular cases, were all the rage. Gruen cases produced between 1925 and 1935 were ornate and highly prized, but the introduction of the Curvex established the brand's precision and quality. Adding self-winding movements in 1950, the company made a decision that proved crucial to its' future a decade later: they closed their Ohio factory in 1958 and moved to New York City. For collectors, the relocation marked the end of an era, yet vintage timepieces crafted during the company's century of success remain eminently sought after and collected.
Omega
You saw one on the wrist of President John F. Kennedy at his 1961 inauguration. Ethiopian emperor Haile Selassie collected six of these accessories. Film footage of Soviet Mikhail Gorbachev depicts the brand on his wrist and Pope John Paul II owned one, too; proud owners all of Omega timepieces. The firm had humble beginnings though; it found a niche and established itself as the pre-eminent maker of timepieces preferred by railroad professionals. Another of Omega's claims to fame is the production of shooting watches prized for accuracy throughout the 19th and 20th centuries.
This reputation may be why international armed forces still prefer Omegas for military personnel. History shows that the U.S. Army commissioned enamel timepieces in 1899 the military. The legacy and quality remain and the brand remains a favorite of global military entities, NASA and even The Olympics, so it's no surprise Field Marshall Montgomery and the Beatles wore Omegas, whether doing battle on a field or from a stage of screaming fans. Sleuth out an original and you'll own a prize collectible.
Longines
The name Longines means "long meadows," an homage to the bucolic Swiss area still home to the family of firm founder Auguste Agassiz. Agassiz launched his business in Saint-Imier in 1832 and his operation was unique: peasants made timepieces at home, an arrangement known as comptoir d'établissage. When Agassiz's nephew joined him in 1854, he innovated crafting and design changes, ultimately bringing craftsmen to Longine's first factory in 1867–the same year the company introduced its iconic hourglass logo.
Today, Compagnie des Montres Longines Francillon S.A. is a state-of-the-art production entity that's anchored by a museum. Fans of the brand flock to see archives that include early timepieces, landmarks and artifacts showcasing the brand's design, engineering and crafting history. The firm is particularly proud of its sportsmen's models harkening back 1878 and used exclusively to track prestigious international competitions.
Since 1999, Longines' slogan has been "Elegance is an attitude," a theme that incorporates the philosophy of one of Switzerland's oldest accessories firms.
Elgin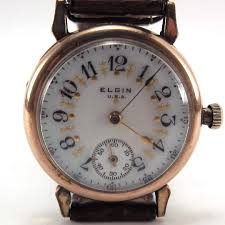 The National Watch Company opened in 1864, but the first movements didn't arrive from overseas for three years. Back then, it took six months to make a single timepiece, but painstaking craftsmanship wasn't unusual for the late 19th century. In 1869, the classic key-wind "Lady Elgin" debuted. By 1857, management added "Elgin" to the corporate name and landmarks followed: the first nickel movement in 1877, interchangeable grades of stem winds and open face cases. By 1888, 7,500 movements a week were produced by 2,300 factory workers; half of whom were women.
Eager to contribute to war efforts, the company trained men to make precision repairs in battle while also producing military watches, chronometers and fuses. Despite the appearance of a flourishing business, the firm failed after WWII and by 1966, the main plant was torn down, yet the name remains a nostalgic Americana memory, so anyone in possession accessories from this company owns a true treasure.
Hamilton
Newspaper legend Horace Greely sent people west, some stopped at the Mississippi River. Others never left Pennsylvania, which is where the Adams and Perry Company set up shop in 1874. The firm specialized in railroad timepieces, calling themselves "The Railroad Timekeeper of America." Hamilton competed with other manufacturers during both world wars, ramping up production to meet military orders.
In 1957, the firm produced the world's first battery-powered electric wristwatch, yet design was always front and center to achieve a competitive edge. Unlike competitors, Hamilton thrived after the wars, diversifying into three brands (Hamilton, Vantage and Buren) and fabricating both domestically and overseas to take advantage of local materials. Hamilton is known for developing unique libraries of timepieces for men and women, thus this heirloom brand remains favorite of collectors who admire both the firm's history and timeless products.
Tudor
When Forbes magazine profiled this company in 2013, it showcased a brand that's not a household name, yet it deserves a place on lists of heirloom timepieces. Launched in 1946 when Swiss watch company Wilsdorf sought a British market, the English brand name was picked in recognition of the Tudor dynasty. A stickler for historic detail, the Swiss watchmaker embellished cases with heraldic emblems and other trademarks of the Tudor family.
Since both Rolex and Tudor lines were owned by the same company, the styles between the two brands became incredibly similar. A great example of this brand blending would be the debut of timepieces with names like the Rolex Tudor Oyster. Over time, men's and women's models bore double names, but consumers weren't fooled. Eventually the Rolex brand overshadowed the Tudor brand; by 2004, Tudor watches had virtually disappeared. In 2013, the name was resurrected in what Forbes called "a triumphant return." Company efforts to re-introduce the brand to discriminating collectors are aggressive, but the real jewels are the earliest timepieces produced by the company in the 1940s.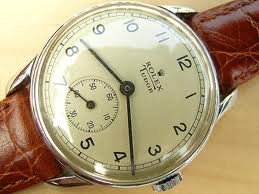 Summary
Article Name
6 Great Vintage Watch Brands
Description
Whether company roots are in Europe or the United States, it's fascinating to compare each company's journey through time to see how they fared. Once you've had your fill of reading this overview, you might want more information on the subject, so perusing Internet sites devoted to the heirloom timepiece market could satisfy your curiosity. Additionally, check your local public library for reference books devoted to this topic if so if you don't find what you like online.
Author