The Birth of a New Age
In the early 20s, women across the world were already in love with the new styles being produced in the big design houses from Cartier in New York to Van Cleef & Arpel in France. Prospective grooms of privilege bought their fiancés engagement rings and wedding bands crafted of Asscher cut diamonds set among gemstones such as sapphire or emeralds. These rings were usually set in white gold or platinum. In 1925 at the Exposition International des Artes Decoratifs in France, the world was treated to a wide range of new styles inspired by artists such as Picasso and Matisse as well as the discovery of King Tut's Tomb. The style was christened Art Deco after the event that catapulted the it to world-wide fame.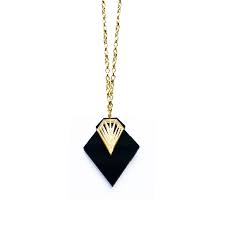 A Generation of Bold Sophisticates
The Victorian Age ended about 1910, but its influence was still seen in the eras of following it. Edwardian and Art Nouveau had their influence firmly in the prim earlier decades of small and tasteful designs based on natural and organic lines. With the Art Deco age, the vintage mantle of the 19th century was thrown off for the sophisticated fashion of the 20th century. Designers found inspiration in everything from Egyptian funerary items to Chinese tapestries to South American tribal influences. Heavy gold necklaces in bold enamels and inlaid with gemstones such as coral and turquoise graced the necks of Hollywood actresses, and beautiful and affordable reproductions of the famous originals were available to the public. A girl with a few extra dollars could afford a beautifully gilded pot metal earrings with rock crystals or faceted glass instead of precious jewels.
A Variety of Materials Made Wearable Art
Designers created bold geometric earrings, rings and bracelets set in white gold and platinum, but the art deco age also began the mass production of pretty baubles set in base metals. Manufacturers copied the original made by the designer and crafted molds that stamped out copies of the jewelry. The materials used for these pieces were sometimes sterling or rolled gold settings, but were more often base metal such as german nickel plated in gold or platinum. Instead of being set with gemstones, these future estate pieces were decorated with rock crystal, rhinestones, garnets and semi-precious stones. Brides, who yearned for a diamond and platinum wedding band from Cartier, could have a similar ring set in less precious materials from their local department store. Many families now have heirlooms from this era with lovely stories about the history of a pair of earrings or a necklace that make it a precious addition to the family estate.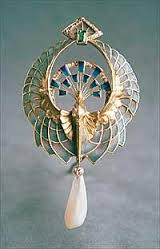 A New Generation of Collectors
Today, bridal magazines are filled with beautiful images of Takori engagement rings and wedding bands with brilliant center diamonds flanked by baguettes and pave rounds. More affordable options, still in precious metals, can be found at Etsy or Genesis Diamonds. If a buyer appreciates the unique history of vintage jewelry and wants to own "the real deal", local antique malls, Ebay, and Ruby Lane are places to start the search.
Transforming Fashion
Some eras are appreciated for their innocent beauty, such as the Victorian or Edwardian age, some are appreciated for their whimsy and sense of play, such as the Retro or Art Moderne years, but Art Deco truly transformed fashion. The 1800s were relegated to the history books and futuristic hopes and dreams were celebrated through fashion, architecture and home décor. There can be no doubt that jewelry from this era will continue to delight the collector and jewelry lovers alike for the next 100 years.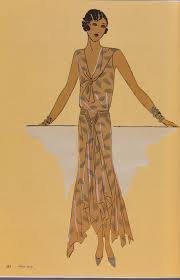 Summary
Article Name
Description
The 1920s exploded onto the scene with shorter skirts, faster cars, and a unique new fashion. Although now considered vintage, in its time this design was the pinnacle of everything modern and new.
Author